The A to Z's of Summer Safety | SERVPRO of New Orleans Uptown & Mid-City
7/7/2021 (Permalink)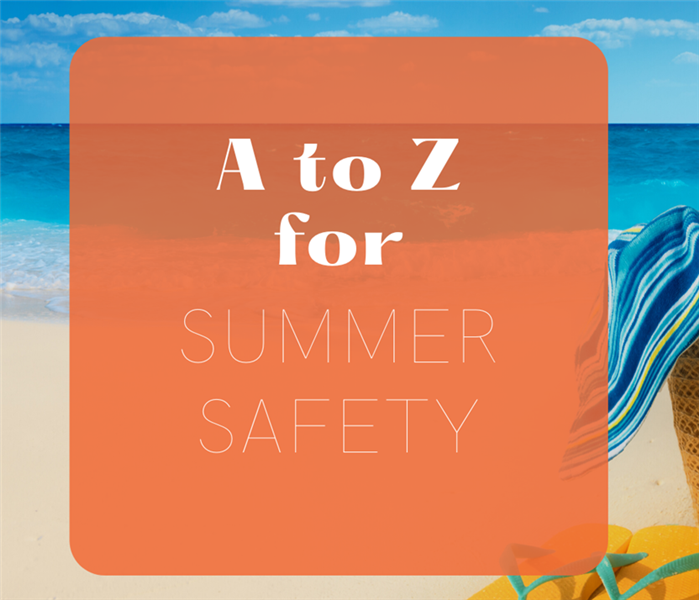 A is for Aloe: Buy an aloe vera plant and use gel from leaves, or use a product containing aloe vera skin gel specifically for mild sunburns.
B is for Beach: Always remember to bring proper sun protection (a hat, umbrella, sunscreen, water, and towel or blanket).
C is for Careful Around Water: Drowning is always a risk when babies and children are near water. Do not leave any child alone near pools, the ocean, or lakes.
D is for Driving Comfortably: Use a shade to protect seats (and baby seats) from overheating in the hot sun. Never leave a baby, child, or pet in your car alone — especially in the summer, which can be deadly!
E is for Eyes: Help protect your child's eyes with UV-blocking lenses that have a strap to keep them on.
F is for Food Safety: When the weather gets warmer, the risk of food spoilage increases. Pack food in an insulated cooler with plenty of ice packs and keep it closed.
G is for Grilling: When you grill, use one plate for raw foods and another for cooked.
H is for Hat: Avoid sunburns by dressing your baby in protective clothing, including a brimmed hat and protective lightweight clothing to cover exposed skin.
I is for Independence Day: July 4 is one of the highest days of the year for injuries from fireworks.
J is for Jellyfish: If you or a family member is stung by a jellyfish, carefully remove the tentacle and walk to the nearest lifeguard station for proper first aid.
K is for Know the Signs of Heat Exhaustion: Nausea, headache, muscle cramps, and heavy sweating — all signs of heat exhaustion. Getting to a cool place to bring the body's temperature down, drinking water, and resting can help.
L is for Life Jacket: Children should wear life jackets in and around any body of water.
M is for Medication Safety: It takes only a minute for kids to get into something when they are out of sight. Put away medications; store them up and out of sight and reach.
N is for Nighttime: Consider attending a New Orleans Park with children. Be sure to bring a flashlight for the walk back to the car. Visit the website to learn more.
O is for Ocean: Check ocean water quality before going for a swim, especially after a storm. For updates on water quality, check here.
P is for Pesticide Safety: Avoid all pesticide use around pregnant women and children.
Q is for Quality Control when eating outdoors: Be sure to follow food safety and sanitation standards for cooking and storing perishable food, while picnicking or barbecuing.
R is for Relaxing: When the temperatures rise, slowing down and taking breaks can help protect your family from heat-related health issues.
S is for Sunscreen: While the sun can supply lots of beneficial vitamin D, avoid sun exposure between 10 a.m. and 3 p.m., and protect skin.
T is for Tides: Check the tide schedule before taking a trip to the beach.
U is for UV Rays: UV rays from the sun are strongest between 10 a.m. and 3 p.m. Use a good amount of sunscreen, find shade or cover up with light-blocking clothing.
V is for Vacation: If you're planning a weekend getaway, create a checklist for you and your family to stay safe on the go.
W is for Water: On hot summer days, it's important to hydrate with plain water. Soda and sugary drinks can make you feel thirstier.
X is for eXcluding Mosquitoes: Mosquitoes can carry West Nile Virus, which can result in serious illness. Use tight-fitting screens in windows and close doors to keep them out.
Y is for Yellow Jackets and Other Pests: Yellowjackets, wasps and other flying pests can become a nuisance during picnics and other times outdoors. Keep them away by mixing 2 ounces of mint extract with 10 ounces rubbing alcohol, and pour ingredients into spray bottle. Spray down picnic and play areas.
Z is for Zinc Oxide: Zinc oxide is a powerful sunscreen, and many types for children change color to let you know when to reapply.