New Orleans' Water Removal Team Discusses Equipment And Drying Procedures
7/21/2021 (Permalink)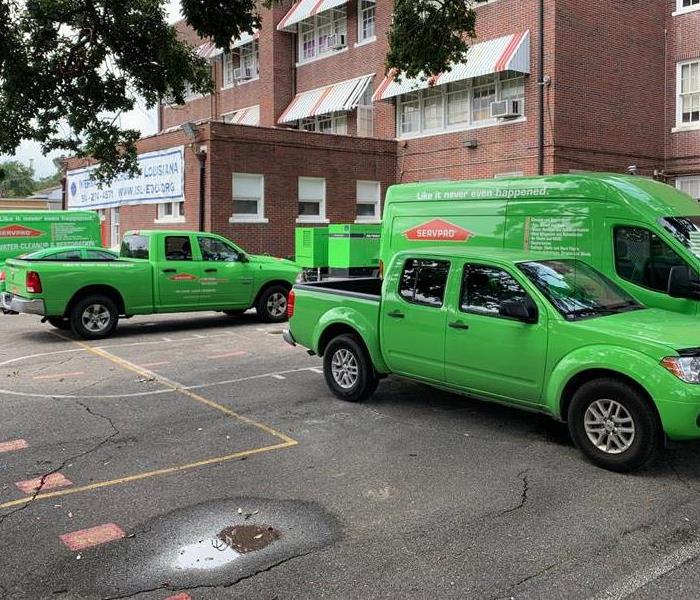 SERVPRO Technicians Are Highly Skilled in the Water Removal and Drying Processes to Protect New Orleans Properties
Whenever water enters your home in New Orleans, many of your possessions and structural materials are at risk of undergoing extensive damage. Excessive moisture can ruin the carpet and weaken the structural strength of wooden materials. Wet organic materials like paper and wood are food sources for mold and can be affected if given enough time and the right temperature.

When preventing microbial growth resulting from a broken pipe or malfunctioning appliance, moisture levels must return to preloss conditions within 48 hours. The water removal process in New Orleans first involves extraction, then rapid structural drying. Using specialized equipment, our SERVPRO technicians utilize the two methods and drop moisture levels quicker than conventional companies can do.

The most drenched areas of the building get worked on first, after the source of the water has been fixed. If there is two inches or more of standing water inside the house, then a submersible pump sucks up the water and pumps it into a sewage drain. Next, depending on the type of affected material, our SERVPRO technicians use different extraction tools.

Some extraction wands are designed to remove water from flat non-porous surfaces like wood floors. For cleaning saturated carpet and pad, a weighted extraction tool can be used to compress the carpet and increase the effectiveness of the extraction process. We can also provide a Rover, a mobile SERVPRO technician-driven device. The equipment uses the weight of the operator standing on top of it to squeeze the soft fibers in the carpet to pull out as much moisture as possible. For cleaning pieces of furniture and other items containing upholstery, a smaller handheld wand can be implemented.

After extraction is complete, the drying stage begins. During the dry-out step, we use equipment to create an environment that speeds up evaporation. Air movers get placed around the wet region and are positioned so that they hit wet surfaces at a 45-degree angle and push air in a counterclockwise motion. Dehumidification systems are then placed in the room to pull moisture out of the air and exhaust hot air out for the air movers to use. These steps of the water damage and restoration service may take many days, depending on the severity of the water intrusion, time left untreated, temperature, and the structure involved.

Moisture levels get monitored each day the equipment is set up. We utilize infrared cameras, thermal hygrometers, and regular moisture meters to know when we have achieved our baselines needed for correct moisture content levels. Once the levels reach what they were before the loss, we remove our equipment. If you ever need assistance with water-related issues, contact SERVPRO of New Orleans Uptown & Mid-City at (504) 468-3047 24/7.
Welcome to the Garden District of New Orleans, click right here.