Disabilities and Disasters
10/1/2020 (Permalink)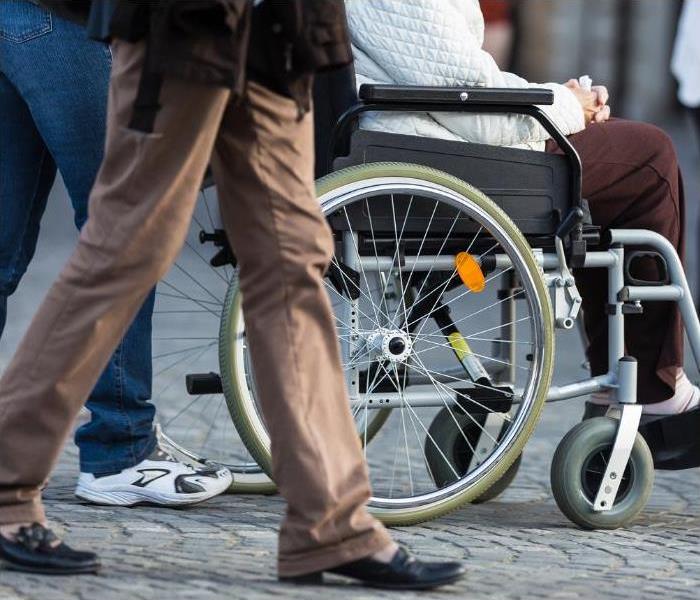 Many storm surges, earthquakes, fires, and other disasters can happen at a moment's notice. Keeping your family safe during stressful disasters is a priority and every family should have a plan in place. Mobility, hearing, learning, or seeing disabilities can cause certain families to create extra precautions. Families, individuals with disabilities, and caregivers can all benefit from the below tips on how to stay safe during a New Orleans storm.
Stay Informed
Identifying common disasters in your area and learning how medical, physical, and cognitive needs may affect you or your family member's ability to respond to each is the first step to disaster preparedness. Take time to learn about your community's plans for dealing with disasters and sign up for warning and alerts to remain notified at all times.
Preparing
The main factors you or your family should be aware of is who you can count on, where you can go, and what to bring. By creating a personal network of people who are able to help you during a disaster and ways to contact them if communication becomes disrupted can put you at ease.
If evacuation is needed be sure there is a safe space you can go to, and how you can get there if you need specialized transportation. By putting all prescriptions and important documents in an easily accessible place makes grabbing and going more efficient in case of an evacuation. If you have medical equipment make sure where you plan to go you can bring the equipment with you. If not, where can you keep this equipment in the interim so it does not get damaged?
Besides your prescriptions, documents, and equipment, other items to keep in your emergency kit can be:
Flashlight
Radio
Water
First aid kit
Non-perishable foods
Cash
Batteries
If you have a service animal make a separate kit for them including:
Minimum 72-hour supply of bottled water and pet food
Portable water and food bowls
Paper towels
Medications and veterinarian info
Medical records
Leash and collar
Blanket and toy
Plastic bags
Bandages
Up-to-date ID tag and recent photo
Copy of the pet's license

Last but not least, practice your emergency plan. Make sure you know exactly what to do and where to go in the event of an emergency. As always, SERVPRO® of New Orleans Uptown & Mid-City is here to assist with any emergency needs in your home 24/7/365.