Carpet Cleaning for Your Commercial Business
10/1/2020 (Permalink)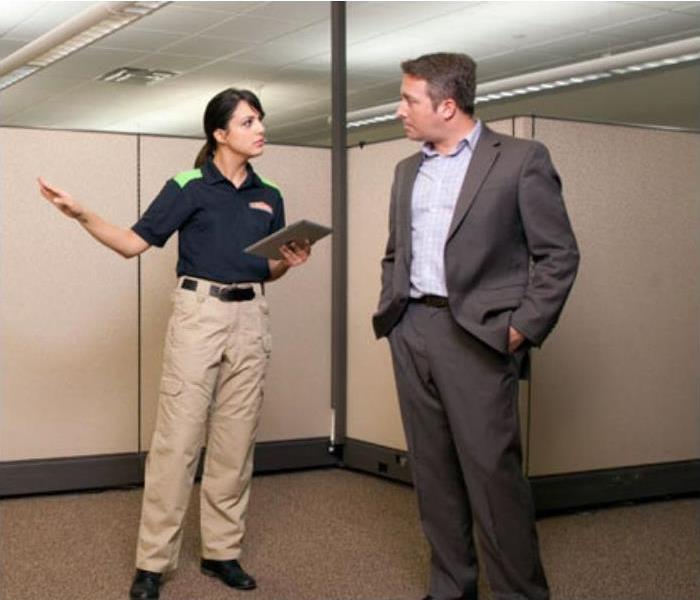 Although most commercial carpets are made for durability, dirt and debris will still build up over time in them because of all the foot-traffic. Maintaining regular cleaning will be beneficial to your carpet because once a carpet gets too soiled, it may never be restored to its original appearance.
Preventative maintenance actions include:
Regular vacuuming
Spot removal
Pilating the carpet to prevent matting
Moving furniture to change traffic patterns
Using walk-off mats to limit the amount of soil tracked onto the carpet
Even when you follow preventive maintenance actions, carpets will still have dirt trapped below the surface that you cannot see with the eye, especially in dark carpets. Carpets act as a filter trapping gasses, hair, dirt, and dust. Did you know that 79% of soil in carpets is dry soil? To reduce that percentage, a good rule of thumb to maintain your carpet's original state is to get it professionally cleaned once a year. Protect your businesses investment by having it cleaned by SERVPRO of New Orleans Uptown & Mid-City.
Because each carpet can slightly vary, we offer a number of options to keep your carpet and upholstery brand new. Here is our range of specialized cleaning methods:
Bonnet Cleaning: A less aggressive method for short piled carpets.
Hot Water Extraction: A deeper cleaning method for all carpet types.
Deluxe Precondition and Rinse: Helps restore deeply soiled areas.
Showcase Premier Cleaning: The most thorough cleaning method in the industry.
Dry Cleaning: When color-fastness is an issue.
For a cleaning backed by state-of-the-art equipment, over 40 years of experience, and Professionals trained to the highest standards, call SERVPRO of New Orleans Uptown & Mid-City today to schedule an appointment.